The Magic Quadrant for User Authentication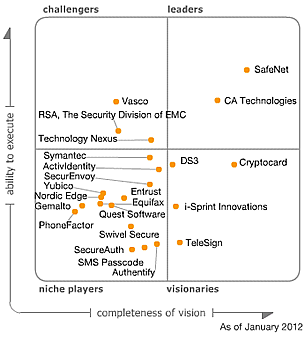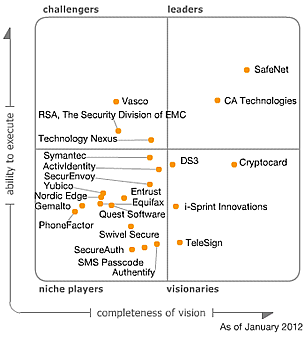 The Magic Quadrant for User Authentication depicts Gartner's independent analysis of authentication vendors in the marketplace. Positioning within the quadrant is based on an organization's ability to execute and completeness of vision.Gartner has positioned SafeNet in the leaders quadrant. Leaders in this Magic Quadrant are vendors with a wide-focus user authentication offering with a solid track record and typically a significant presence in the market. They have a clearly articulated vision that is in line with the market trends, which is typically backed by solid technical innovation. Their business strategy and execution are very sound. Vendors in this quadrant can provide a strong solution for many enterprises across one or many use cases, typically including emerging needs.
Organizations today increasingly require flexible and scalable authentication solutions that enable them to secure user identities, extend protection to highly sensitive transactions, and evolve quickly to address new environments, from mobile to virtual.
Gartner's 2012 Magic Quadrant recognizes SafeNet's leadership position in Authentication.
According to the Gartner Magic Quadrant report, "a provider in the user authentication market delivers on-premises software/hardware or a cloud based service that makes real-time authentication decisions and can be integrated with one or more enterprise systems to support one or more use cases. Where appropriate to the authentication methods supported, a provider in the user authentication market also delivers client-side software or hardware used by end users in those real-time authentication decisions". Gartner estimates "the overall growth in the market by customers to be approximately 30 percent year over year". Enterprise interest in OTP methods, "remains high; however, as has already been noted, Gartner has seen a significant shift in preference from traditional hardware tokens to phone-based authentication methods".
SafeNet's authentication portfolio includes:
Certificate-based (PKI), OTP, software, hybrid, out-of-band (OOB) authenticators

Centralized management that enables organizations to streamline deployment and administration, unify policies, and improve control and visibility across the entire authentication scheme

Innovative solutions that enable secure access from mobile devices

Identity federation and SSO for SaaS applications
Thousands of our customers around the world trust SafeNet's authentication solutions to help them secure and control identities and transactions, and expand with them to meet their future business needs.